This article is about the real person. For their animated counterpart, see Gavin.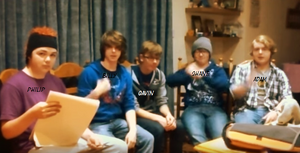 Gavin Thomas is a voice actor in Billys Toon Times, and he voices his persona in the show, Gavin. At the end of "Done Deals", it's revealed he "voice act[s] and that's about it". He, like Philip McEvoy, does not have his own YouTube channel. He seems to be one of Billy's closest friends, as he was one of 3 main characters in the Pilot, along with Shane.
Notable characteristics
In the video "BTT Crew&A #3 - ALLDACREW", Gavin appears to be rather quiet and fidgety. He doesn't talk outside of introducing himself until around 3:33, where he states that Marc Lovallo is "probably having a life" in America. In the video "2 YEARS OF BTT - The Losercast #2", Shane states that he isn't as oblivious as he is in the show, but he's still oblivious, even in real life, according to Billy.