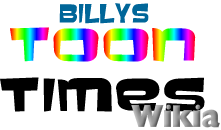 Welcome to the Billys Toon Times Wiki
"A group of friends go on exciting adventures together along with their pink sheep."
Billys Toon Times is an animated Flash series on YouTube and Newgrounds. It focuses on four characters Billy, Shane, Gavin and Philip, on occasion Adam too. All characters created by Billy Crinion.
The series is created and animated by Billy Crinion. The reason for this series is Billy wanted to make something like Eddsworld because it inspired him, the style used was originally a mixture of Paul ter Voorde's and Billy's. The plot and style of the show changed drastically after the first episode, mainly because Billy wanted to stray away from making an Eddsworld copy and focus on making it his own thing.
The Pilot